Monitor your deliveries and visits with a single platform
Give your customers a 5-star experience with SimpliRoute. Efficient deliveries, organised delivery drivers, smarter decisions.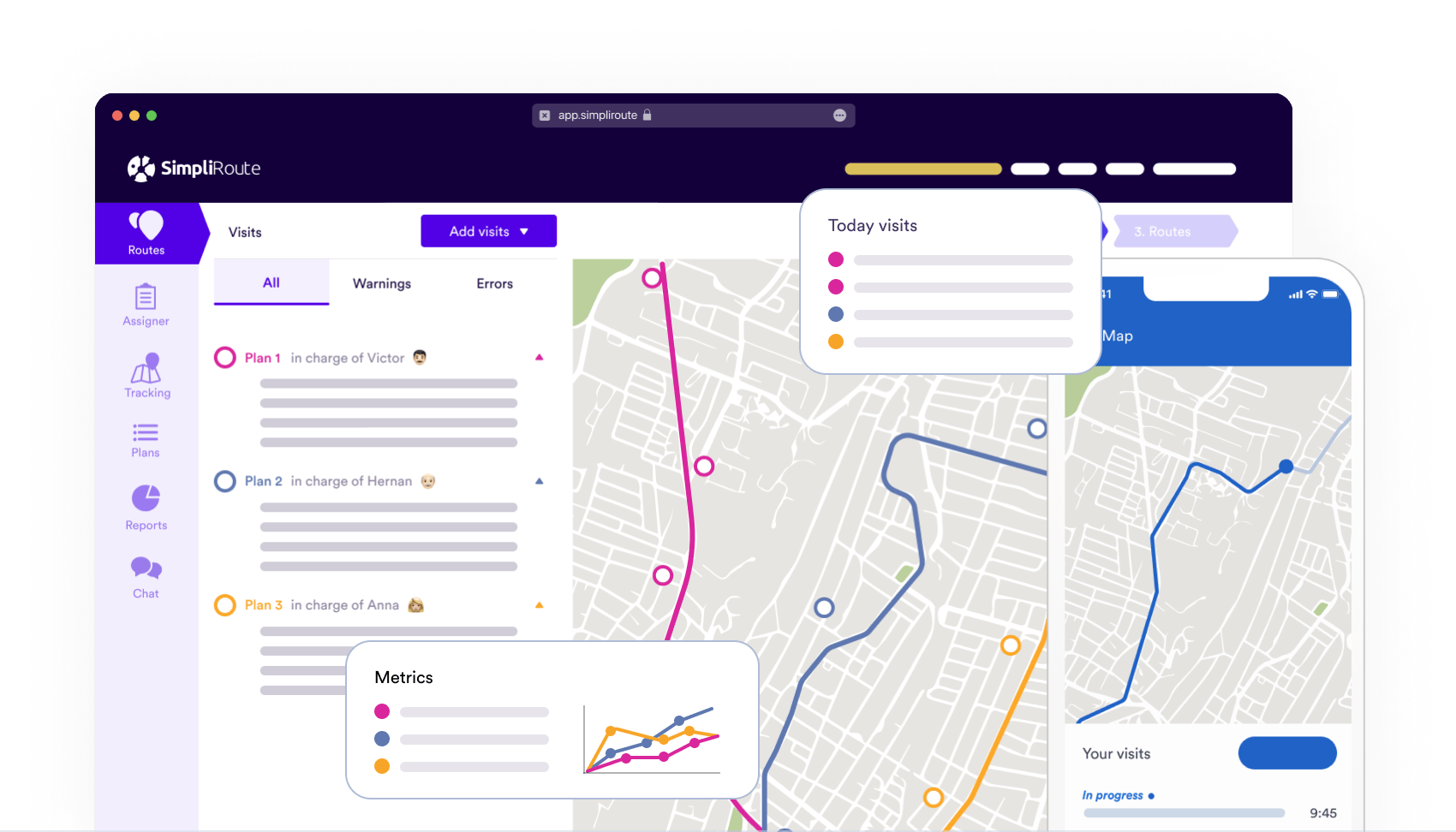 More than 1000 companies rely on SimpliRoute for optimize their visits and deliveries
With SimpliRoute we have point-to-point routing in minutes and 100% traceability in our delivery process.
Eduardo Torres
Logistics Manager, Kitchen Center
Track and manage everything from one place
Monitor your vehicles, generate delivery receipts, notifications, estimated arrival times for customers: SimpliRoute is the most complete kit for your logistics.
Get proof of delivery for peace of mind. Photo, signatures, QR code, personalised forms. Recipient names, signatures and photographic evidence are synchronised and saved for each stop.
Start optimize routes in less than 5 minutes
Do you have a list of stops with addresses? Upload it to SimpliRoute and discover the best routes to assign to your fleet of drivers.
Choose which optimization you need: load balancing between vehicles, vehicle minimisation, Big VRP routing for large fleets. Discover the best delivery order in seconds.
A 5-star delivery experience for your customers
Happy customers are achieved with perfect deliveries. Give them transparency and certainty about the arrival time of their order. Notify him via SMS, Email or Whatsapp about his delivery.
Reduce claims and returns by controlling the whole process of your drivers' visit and tracking your customer's order, you will manage expectations of the reception of the product.
We are revolutionizing last mile logistics
+25%
Successful deliveries
Before...
Planning routes or visits was tedious, time-consuming and we spent too much money.
Ineffective tools: Google Maps, spreadsheets, Excel, Waze, etc.
Long delivery times, we never know when the driver will arrive at the destination.
A sudden increase in orders means long hours and a lot of stress to manage all deliveries.
We don't know how many vehicles we need for the day's dispatches. We could possibly save a lot of resources.
With SimpliRoute
Optimize and plan your delivery routes in minutes - with artificial intelligence!
Route optimization that takes into account variables such as time, efficiency and more.
Five-star deliveries to leave your customers happy. Report it all at the time of delivery.
You will assign optimized routes to your drivers with a couple of clicks.
You will get the most out of your vehicles, assign special capacities, time windows and see how they perform.
Everything you need to make efficient deliveries
Route, monitor and organise your deliveries, deliveries and visits. No more complex maps, street knowledge and learning curves; in a few minutes you have multiple optimised routes, driver tracking and notifications for your customers, with minimum effort.